Nero Burning ROM
16.0
Burning on a leash
Nero has long been a household name. In last decade you would have found it on almost any computer. Today however with the advent of so many data transfer options, burning discs has long lost the first option status. burning files on a disc is now mostly limited to showing pictures on your parents' DVD player or for professional purposes. If you're interested in Nero for the latter category then you will be delighted to know that this software has kept up with modern times and is ready to be purchased as soon as you agree to.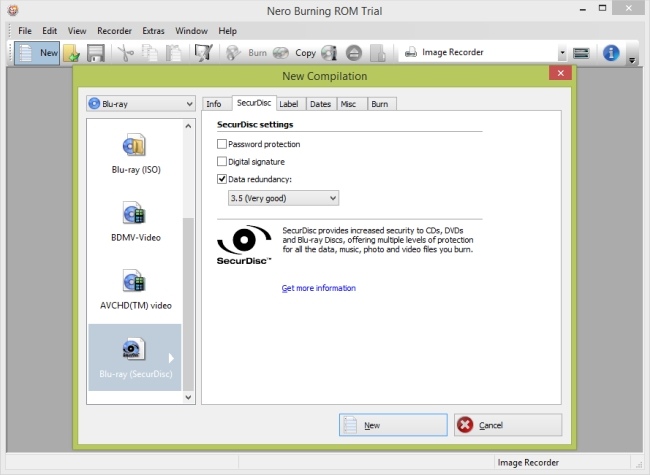 Good tech, bad marketing
On a first look, Nero has abandoned it's red dominated interface for a more homogeneous window. The Burn button still has the old artwork but otherwise, the main screen now shows the disc content and a file browser. Composing a selection is done simply by dragging and dropping files between the two panels. Unfortunately, I would have liked the option of dragging from an external window such as Explorer, but I guess this is better than an "Add Files" button. The drive and type of disc can be easily set from the main window but if you want more specific options you must browse the standard drop-down menus.
Either way, by selecting New you are presented with an exhaustive preparation window in which you set the type of recording, speed, finalization and a lot of other options. But just in case you're wondering, all options are sorted into relevant tabs that resemble a workflow.
In Multisession you can chose to begin or continue writing on an un-finalized disc. DiscSpan lets you split large files over multiple discs (the same as a multi-part archive). Rewritables can also be simply erased without the need of a new burning session.
If you plan on writing multiple copies of the same disc, then you can burn them simultaneously if you have the means. If you're not in a hurry however then you can simply save the project and load it every time you need to Other options include label, volume dates and verifying results using SecurDisc.
Also if we want to talk about the shortcomings of the demo version, then the biggest one is the fact that you cannot burn anything larger than 100MB. Yes, you read correctly, nothing larger than one hundred megabytes. That refers to the entire disc, not just individual files. It is clear that this might be a big deterring factor to even trying to test the demo version, but I guess that the developers have done their marketing plan and accounted for every possible client type. Anyway, considering that the trial only lasts for 14 days while you are constantly reminded to upgrade, this version is probably meant to be an interactive tour rather than a trial version.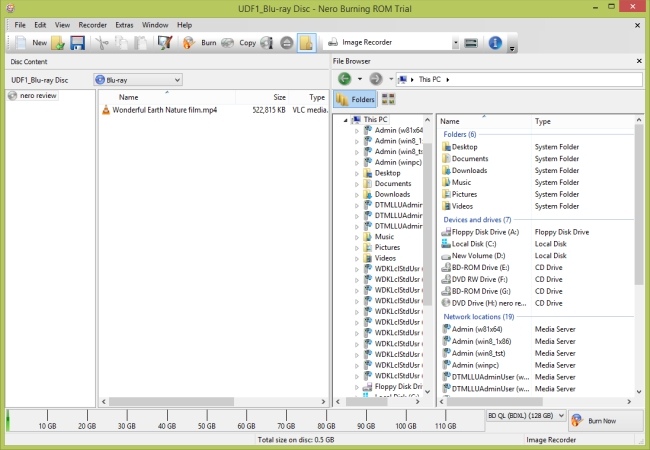 Features:
DiscSpan - spread big files over multiple discs
Multiple disc burning options
Save audio tracks - basically CD ripping
Audio file re-encoding
Detailed multisession options
Pros:
Very well suited for professional use
CD ripping!
Cons:
You cannot truly test it since the trial limitations are in the way
Pitches for upgrade every time it gets
You cannot drag files from outside the program when compiling
Conclusion
Nero Burning ROM has kept up with the world and is now better than ever to be used on a regular basis. Unfortunately it is not a good option for casual users since the demo hints at this with the 100 megabyte limit. Besides if you burn a disc once in a while then you can just download a dedicated program for free.
---
Add a review
Tell us your experience with
Nero Burning ROM
16.0
RELATED PROGRAMS
Our Recommendations
---
---
---
---